Yesterday, we were enjoying the beautiful Georgia afternoon by playing outside. Eden, my 3rd child, had a stuffed hippo she was playing with. She insisted the hippo go EVERYWHERE with her. It brought back some memories from my childhood.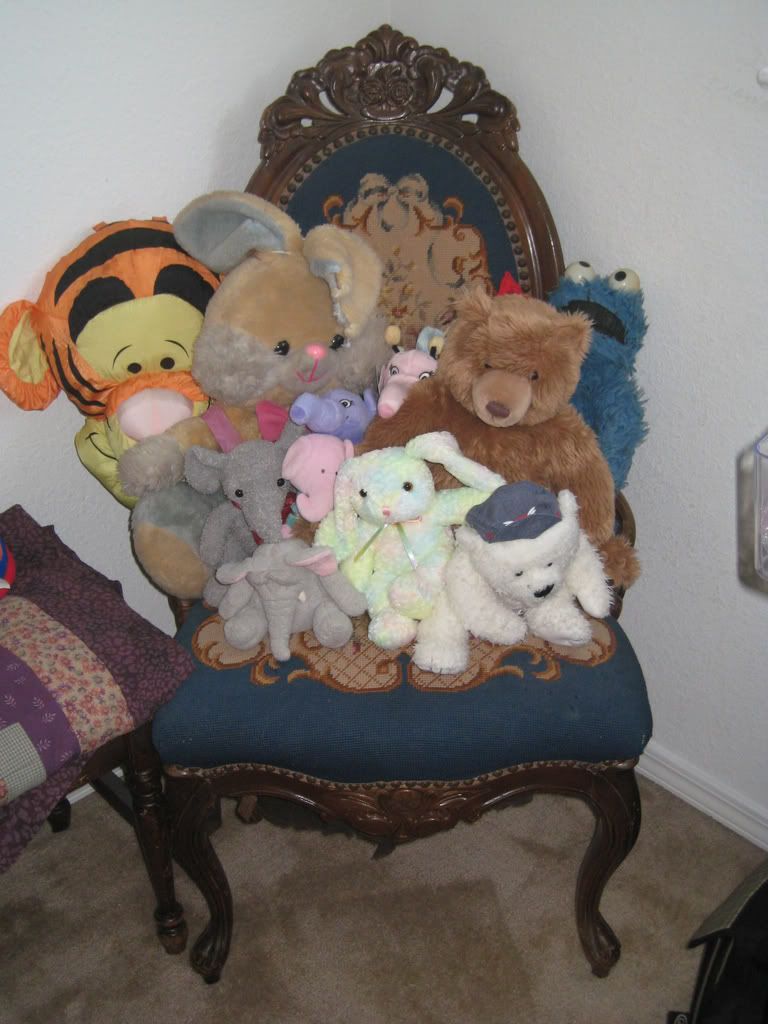 You see, growing up, I loved my stuffed animals. I remember having reading time in the 4th grade. Our teacher encouraged us to bring a favorite blanket, stuffed animal, etc. with us for that time. I distinctly remember apologizing to my animals because I couldn't bring all of them. I know you are laughing. I am too! It sounds ridiculous, doesn't it? As if my stuffed animals really had feelings and cared! I can remember making my bed and they all had their place.
Anyways, all of this came back to my mind yesterday seeing Eden with her hippo. I thought about how when I was younger, I was an 'animal pleaser.' I wanted to make all of my stuffed animals happy. Why? Because they were there when I cried, they knew all my secrets, they were some of my closest friends. Keep laughing, go ahead, but you know exactly what I'm talking about!
As I was pondering these things yesterday, I realized that I grew up and matured away from the 'stuffed animals' (although, I did sleep with one until  I got married!) I realized I shied away from being an 'animal pleaser' and started to become a 'people pleaser.' I want to make everyone happy. I want to be the mediator who can make all the problems go away and be fine, smooth things over, not raise conflict or bring on confrontation. I worry about what others think about me, their perception.
1 Samuel 16:7
But the LORD said to Samuel, "Do not look at his appearance or at his physical stature, because I have refused him. For the LORD does not see as man sees; for man looks at the outward appearance, but the LORD looks at the heart."
The older I am getting now, and hopefully, the more mature, the more I am realizing that it doesn't matter what everyone else thinks. The Lord looks at my heart. I want the Lord to be pleased with what He sees. I want my life to reflect what is in my heart. I want to take my head knowledge, make it heart knowledge, and live it!
I want to no longer be concerned with making everyone around me happy and pleasing them. Although, those will probably be benefits if I am following the Lord's command to love my neighbor as myself. However, I am striving for that to NOT be my focus. I want my focus to be on pleasing the Lord. Bringing Him honor, glory, and giving Him praise. And yes, people will benefit from that. When I am honoring God, I will submit to my husband. When I am honoring God, I will be training up my children properly. If I am reaping the Word of God into my life, I believe those are things will be the fruit that I bear.
Let us no longer be concerned with everyone around us and whether or not we are pleasing them. Let us be concerned about knowing the Word of God and obeying it!
Blessings,
I would love to be friends!
You can subscribe by email or connect with
I am linked up at:
Are you encouraged by The Imperfect Housewife?

If you feel led to give back, here is one way you can do that:

Share My Button!

<div align="center"><a href="http://www.theimperfecthousewife.com" title="The Imperfect Housewife"><img src="http://i1211.photobucket.com/albums/cc435/ghangw37/newbutton-1.jpg" alt="The Imperfect Housewife" style="border:none;" /></a></div>

Categories