My life is good. I'm not even going to pretend. I have a loving husband,who works hard, loves the Lord and loves his family. I have 5 wonderful children. I have a lovely home. I have things that make life easier (washer, dryer, dishwasher, etc.) I have been blessed beyond measure. I'm living the good life.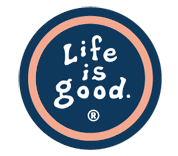 Yet, if these things are my barometer for life being good, I might find myself in trouble. What if my children become uncontrollable? What if my husband stops loving me? What if we lose every dime we have? What if I lose all my possessions? (I must confess, I hate to even write those things. I do hope none of them happen!)
Is my life no longer 'good'? Is life only viewed as good when things are going my way? When there is no financial stress? When there is no drama? When my children are behaving and my husband treats me like a queen? Will I always feel like "I'm living the good life"?
What if what happened to Job, happens to me? If I lose everything (except for a nagging spouse!) will I still be able to say "Blessed be the name of the Lord"?
I hope that because of my faith in God I will always choose to believe I  have been given the good life. Because that is exactly what Jesus came to give us. Life. Eternal life. Knowing that should be enough to say "I've got a good life!"
"The thief does not come except to steal, and to kill, and to destroy. I have come that they may have life, and that they may have it more abundantly." John 10.10
Am I allowing Satan to sow discontentment in my heart? Am I letting him steal my joy? Is my attitude destroying me from the inside out? I know, too often, that I allow the Enemy a foothold in my life that makes me question the life I've been given. To hinder the abundant life that Christ wants to give me.   Asking God "Why?" Why me, why now, why later, why….  Let us remember why Christ came. To give us life, and to set us free!
Do you believe you have been given the good life through Jesus? I do.
***There is still time to enter the Norwex Giveaway!***
Blessings,
I would love to be friends!
You can subscribe by email or connect with
Are you encouraged by The Imperfect Housewife?

If you feel led to give back, here is one way you can do that:

Share My Button!

<div align="center"><a href="http://www.theimperfecthousewife.com" title="The Imperfect Housewife"><img src="http://i1211.photobucket.com/albums/cc435/ghangw37/newbutton-1.jpg" alt="The Imperfect Housewife" style="border:none;" /></a></div>

Categories