It's been a while since I have talked about my lovely 'sponsors'. As most of you know, a while back I decide to ditch paid advertising. So,  these ads are people who I have come to know and love. Yes, some of them (by affiliate links) do bring in some money. Others, have graciously donated to me.
Without further ado, here is my list:
Where to start with Victorian Rose Soap Company! Miss Karen and her family make lovely and luxurious goats milk soaps! I can not say enough about them! They look pretty, smell pretty, and my skin feel absolutely wonderful! With fast shipping and great service, you can not go wrong with this company!
The Bulk Herb Store is one of my affiliate links. Again, I  this has been a company that has provided excellent service and quality products. I get all my herbs from them! And, it's nice to know I am helping out another family who knows much more about this subject than I do! One of their biggest items we enjoy would be their HerbaSmoothies! Love, love, love these during the hot summer months!
Ah. The fabulous nursing cover! These are made by Udder Covers, and unfortunately, I have not owned one until having our last baby. They have multiple styles to choose from, and with the code 'one free' all you pay is shipping and handling! I love mine! It has great boning in it so you can see baby and still be covered up! Great for yourself or as a gift!
My  newest sponsor is also someone who lives in the same town as me! Small world eh? Kathryn blogs over at Singing through the Rain. She is a military wife, and you are going to love her blog! Why don't you go over and say hi! Tell her I sent you and say Thank You for her husband's service to our country!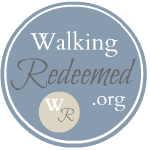 My good friend Kasey took a bit of a blogging sabbatical, but, she is back! And I thank God that He has let the calling of writing continue! You will be blessed by her NEW blog, Walking Redeemed.
And of course, I support myself, right? Lilla Rose offers beautiful hair accessories that I have told you about before! Now, if you are already a customer to another Consultant we do ask for loyalty that you stick with them.
And, I almost forgot about Vision Forum. They offer wonderful materials for the family. I have read multiple books from there, and listened to/watched documentaries they offer. A great resource for the Christian family!
Again, another way to support me would be through my affiliate links. If you order through my links, I get a small percentage of your purchase. So small, I have yet to receive any checks.
I don't have an Amazon Wishlist (yet) but Cindy, from Get Along Home may have inspired me to get one! For more blogs that I like to frequent, go HERE.
Thank you, to all my wonderful sponsors and 'advertisers' for being a part of this blog! You are all wonderful, and I hope that more people will find you because of it!
Blessings, and Happy Friday!
I would love to be friends!
You can subscribe by email or connect with
Are you encouraged by The Imperfect Housewife?

If you feel led to give back, here is one way you can do that:

Share My Button!

<div align="center"><a href="http://www.theimperfecthousewife.com" title="The Imperfect Housewife"><img src="http://i1211.photobucket.com/albums/cc435/ghangw37/newbutton-1.jpg" alt="The Imperfect Housewife" style="border:none;" /></a></div>

Categories